Keep your windows clean and clear when you rely on our professionals.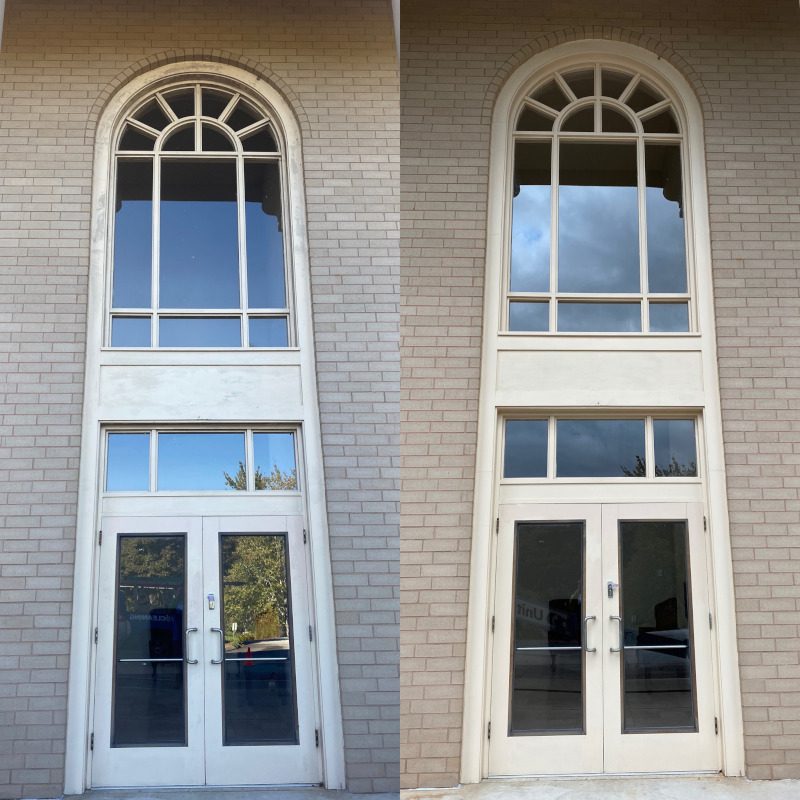 No matter how pretty your view is, dirty windows will make it less pleasant. You deserve to have clean windows, not just to appreciate the world outside or to make your home look better but also for health-related reasons. Buildup of dirt, pollen, mold, mildew, bacteria, or other allergens can affect your indoor air quality, but removing them will promote a cleaner, healthier living environment.
If your windows have looked better, just trust our team at 4 Seasons SoftWash for window cleaning. We are professionals in the exterior cleaning industry, and we are more than prepared to restore your windows' clean, clear appearance using a specialized process that is much more effective than your typical 'mop-and-squeegee' window cleaning company.
One thing that sets our window cleaning service apart from our competitors is that we can provide soft washing. This method of cleaning offers highly effective, long-lasting results because it focuses on killing contaminants like mold, mildew, algae, and bacteria that grow on exterior surfaces, including windows. It works similarly to pest control, as it removes the root of the problem instead of leaving microorganisms behind on the glass and letting organic growth persist.
We also apply a final wash only available for SoftWash Systems Authorized partners. This wash makes your windows hydrophobic and uses a state-of-the-art pure water rinsing system. We are the only company in the area able to offer this unique service.
Whether you need window cleaning for your home or your business in Johns Creek, Georgia, we are dedicated to providing the results you want to see while minimizing our impact on the environment. With our biodegradable, low-VOC cleaning solutions, you won't have to worry about harming your landscaping or the environment in general.
Contact us today to request a quote for window cleaning.
FAQs About Cleaning
When your windows are grimy, even the prettiest views can be ruined by streaks, smears, and stains. Here at 4 Seasons SoftWash, we go beyond standard window cleaning services, offering state-of-the-art solutions that are eco-friendly, gentle, and highly effective. Below, we've responded to a few frequently asked questions about our window cleaning options to help you decide if our services are right for your home.
How are your services different from other window cleaning providers?
There are three key things that set us apart from our competitors. First, we only utilize environmentally friendly cleaning solutions that won't pose any risks to your windows, landscaping, or pets. Secondly, our soft washing methods are designed to get rid of harmful contaminants at the source, leaving behind windows that are clean, sanitized, and more resistant to buildup in the future. Lastly, we complete every service with a Final Wash from SoftWash Systems to make your windows hydrophobic and even more resilient to dirt and grime.
How will the Final Wash product affect my windows?
The Final Wash product from SoftWash Systems is a finishing soap that neutralizes the effects of harsh cleaners, such as bleach, and it leaves behind a layer of wax that will leave your windows clear and resistant to water and help protect your property's interior from harmful UV rays. This simple system will keep your home's windows clean for 4 to 6 times longer than a standard squeegee approach, and it offers a multitude of benefits that no other window cleaning company in the area can match.