Schedule soft washing to protect the roof that protects you.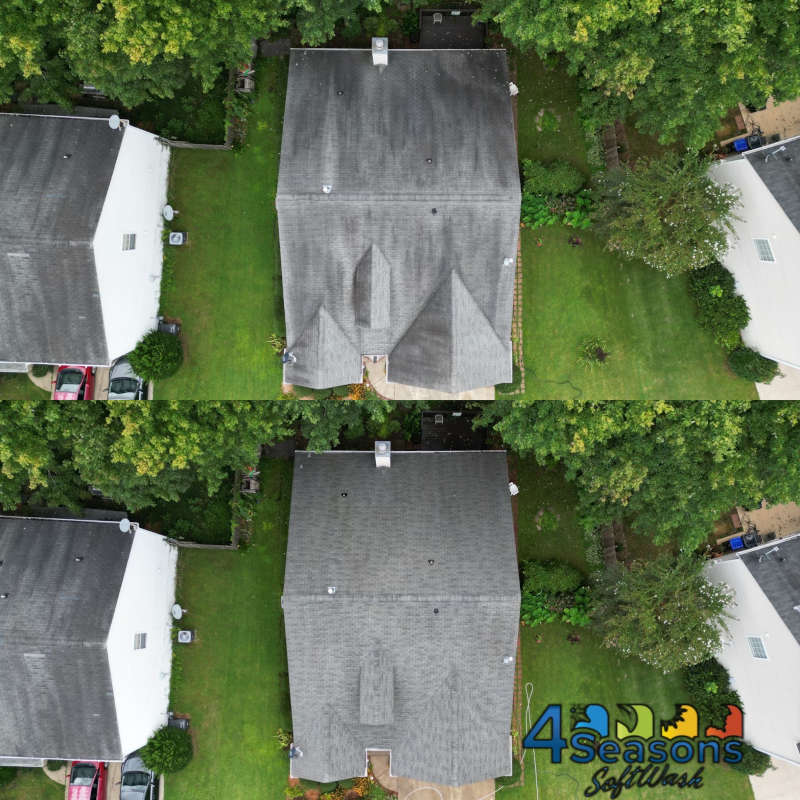 Have you ever wondered what those black streaks on your roof are? Most likely, these streaks are algae or other colonies of microorganisms that may slowly eat away at your shingles if they are not removed. It's not uncommon to find organic buildup like algae, mold, mildew, moss, and fungi on roofs in this region due to the high humidity. Our climate promotes the growth of these undesirable contaminants, which can leave your roof looking less than appealing. Luckily, we offer roof washing to rid your roof of its ugly dark streaks.
At 4 Seasons SoftWash, we are proud to offer roof washing in Johns Creek, Georgia. We are able to provide unparalleled results because we offer soft washing instead of using traditional methods like pressure washing when we clean roofs. Where pressure washing exerts too much pressure for your roofing materials to handle, soft washing is extremely gentle, relying on water-based, biodegradable cleaning solutions to do the bulk of the work.
Because soft washing solutions target organic growth, you can expect longer-lasting results from our roof washing service. Instead of growing back shortly after the cleaning, the algae or other microorganisms will stay away, leaving your roof free to continue protecting you from the elements.
We believe we're the roof washing team for you for several reasons. To start, we're a certified member of the SoftWash Systems network of companies, so we're up to date with the latest products, technology, and training. We also go above and beyond for each of our customers and care about protecting the environment when we provide our services.
Contact us today for a roof washing quote.