Restore your home's curb appeal with soft washing.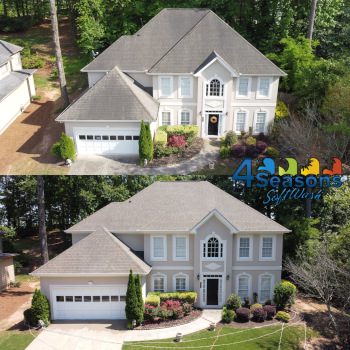 As a homeowner, it's only natural for you to want your house to look clean and appealing on the outside, but you might not be sure how to achieve that. Fortunately, you can get the results you're looking for when you trust our team at 4 Seasons SoftWash. We proudly offer exterior house washing to those in the Johns Creek, Georgia community, and we will make sure your house is spotless by the time our work is done.
Exterior house washing refers broadly to any service that is focused on cleaning a home's exterior walls or other exterior surfaces, regardless of the method. Many companies offering exterior house washing rely on pressure washing, but this technique is notoriously damaging to many surfaces. Instead, we offer soft washing, a gentle, low-pressure alternative that yields superior results.
Soft washing involves the application of special cleaning solutions, which are designed to target organic buildup, such as algae, moss, mold, mildew, bacteria, and even insect nests. The solutions destroy these contaminants at their roots, much in the way that pesticides kill pests. As a result, your house stays cleaner longer.
Another reason we rely on soft washing for our exterior house washing services is that it is an eco-friendly option. Our cleaning solutions are biodegradable, nontoxic, and low VOC, so you can have peace of mind that we will protect the environment as we wash your house.
If you're interested in exterior house washing to boost your home's curb appeal, contact us for a quote.
Similar Services We Offer: